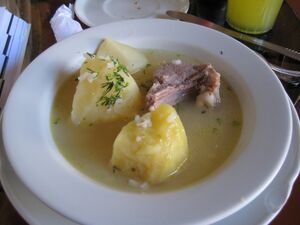 Prep Time: 20 minutes
Cook Time: 1 hour, 30 minutes
Yields: 8 servings
Description
Edit
Ingredients
Edit
2 quarts water
1 pound lean lamb bones, neck or shank
1 bunch fresh cilantro
1 cup red bell pepper
1 onion, quartered
4 cloves garlic
2 tablespoons olive oil
1 cup dark beer
3 carrots, sliced
3 stalks celery, chopped
1 cup shredded banana squash
1 large cubed potatoes
1 cube chicken bouillon
1 tablespoon salt
Directions
Edit
1. Rinse lamb, and put in pot with water. Add squash, carrots, and celery. Bring to a boil, and then simmer for half an hour. Do not cover.
2. Twist stems off cilantro bunch. Put in a blender with 1 cup water. Blend till liquefied.
3. Add garlic cloves, onion, red pepper, bouillon cube; chop in blender. Do not liquefy. Ingredients should be fairly chunky.
4. Stir fry cilantro mixture in olive oil till onion is translucent. Add to soup pot with beer, and simmer for 15 minutes.
5. Add potatoes, and simmer for final 15 minutes, or until potatoes are tender. Season to taste with salt.
6. Serve.
Ad blocker interference detected!
Wikia is a free-to-use site that makes money from advertising. We have a modified experience for viewers using ad blockers

Wikia is not accessible if you've made further modifications. Remove the custom ad blocker rule(s) and the page will load as expected.